Today is international surfing day and I just thought I didn't write a lot about surfing though it was one of my favorite activities while in Australia.
Surfing was part of culture in Polynesia for ages but only in the last century the surfing was gaining popularity in other parts of the world.
My first touch with surfing was in very unusual place.  During my trip to Germany  I was walking around Munich and suddenly in the center of the city I saw surfers. Can you image somebody surfing in the middle of the city? So it was my first time I learned about such kind of activity.
It took five years till I actually tried to learn surfing. It happened at Jeffreys Bay in South Africa. I took some lessons there. Unfortunately it was very bad season and even for learners waves were too small.
So it passed another couple years and I arrived to Sydney. I said myself I need to learn surfing now or never. It was early and not warmest spring, but I went to Surf Camp near Sydney (which I definitely recommend). It was two intense days at Seven Mile Beach, but at the end I could stand up without problems and ride waves! It is unbelievable feeling.
Of course it wasn't wave like this one: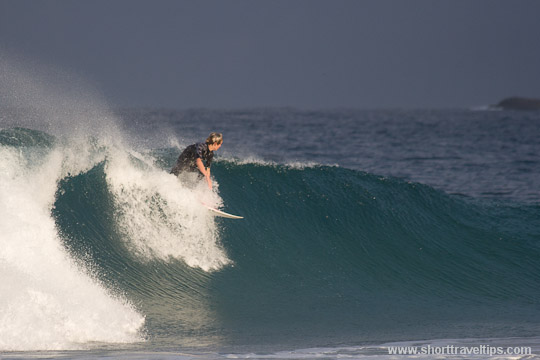 But now I knew I can do it and it just a question of time when I will be able to ride something bigger 🙂
You must try it too if you are visiting Australia and I encourage to hire trainer. Of course spending time in surfing camp it is the best option to learn it, but take at least couple hours lesson if you can't go to camp. You can rent surf board and try it yourself, but it is good to have somebody on side who can show your mistakes.
Be prepared for lot of paddling at the beginning
then relax and stretch a little bit
watch whales passing by
and paddle paddle again 🙂
The most famous surfing beach in Australia is Bells Beach near Melbourne, but I wasn't much excited about it as water is quite cold there and my preference were beaches around Sydney as I lived there or in Byron Bay during holidays (last three photos are from the trip to Byron Bay). I love that shallow beach in Byron Bay and you can just walk if you are tired of paddling.
You will also find some outstanding surfing in the city of Gold Coast and the surrounding area. Surfers Paradise is probably the best known beach in the region, but South Stradbroke Island, Broadbeach, Main Beach, and The Spit are extremely popular in their own right. Duranbah Beach is another world famous surfing beach that is close to Gold Coast, but it is actually just across the state line and is located in New South Wales.
Save